The Chisholm Trail Outdoor Museum | Step Back in Time
Wardville Sheriff's Office and Jail
Original Details from the 1800s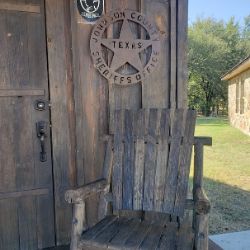 In 2010 we added the Wardville Sheriff's Office and Jail to the museum collection. Although the Sheriff's Office and Jail themselves are not original, we are lucky to have the original jail door from the 1855 jail at Wardville. The jail door is inside the building, and features a charming old west scene showcasing what the jail would have looked like in the 1800s.
Over the years, these doors have been used at three different jails. Bringing them back to the Chisholm Trail Museum was symbolic as this was their original location.
Museum Attractions
Step Back In Time & See What It Was Like To Live In The Wild West
Accessible by the public, the Chisholm Trail Outdoor Museum is an open area where visitors can learn about how the cattle drives along the trail impacted life and the history of the first county seat of Johnson County, Texas. Come check out the original courthouse, a stagecoach station, a blacksmith shop, and many more attractions on the banks of Lake Pat Cleburne on the Chisholm Trail. Be sure to check out the many Historical Markers along the Chisholm Trail for a fun driving adventure.
Really interesting. And outdoor walking tour that you do on your own. Lots of old building and things to see. I enjoyed myself. I would come back here with little kids and wander around. They have a picnic area where you can go with kids and spend the afternoon
Amazing HISTORIC Outdoor Museum and Big Bear Native American Museum! Makes you believe you are back in the 1800's with Stagecoach, Blacksmith, School, Jail, Court House and more! ALL of the activities and events are incredible!
Neat place - loved that you can explore on your own and how quiet it is!
When we got there, we started with the "Big Bear Native American Museum" on the premises of the Chisholm Trail Museum. With no disrespect to the Chisholm Trail Museum, the Big Bear Museum "stole the show" for both my wife and I. I've seen many Native American artifacts and collections and I believe this museum, while being relatively small, is one of the best curated collections I've ever seen.