Musuem Attractions
The Chisholm Trail Outdoor Museum
Wardville Sheriff's Office and Jail
Original Details from the 1800s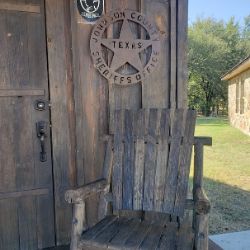 In 2010 we added the Wardville Sheriff's Office and Jail to the museum collection. Although the Sheriff's Office and Jail themselves are not original, we are lucky to have the original jail door from the 1855 jail at Wardville. The jail door is inside the building, and features a charming old west scene showcasing what the jail would have looked like in the 1800s.
Over the years, these doors have been used at three different jails. Bringing them back to the Chisholm Trail Museum was symbolic as this was their original location.
See More Attractions
A Fantastic Outdoor Museum Experience For All Ages
Multiple Museum Attractions Available!