The Chisholm Trail Outdoor Museum | Step Back in Time
Big Bear Native American Museum
Honoring Native Americans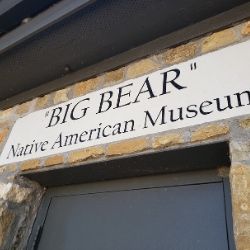 The Big Bear Native American Museum provides an invaluable educational experience for children and adults alike to learn more about Native Americans. The museum houses a vast collection of Native American artifacts donated by Leonard "Big Bear" Beal, a Native Texan and the museum's namesake. 
In the museum you will find a wide variety of artifacts and historical pieces that are sure to provide a better understanding about Native American culture as a whole. The Big Bear Native American Museum aims to provide a comprehensive overview of the history of Native Americans in North American, from when they arrived here more than 13,000 years go, to present day. 
Sponsors of the Big Bear Native American Museum
GRIZZLY BEAR
Pinnacle Bank * Marvin & Bettye Stewart * Dr. William Pfeiffer * City of Cleburne * Anonymous (2) * Curtis & Gayle White * Shelley Wilson/WECO Engineering * Curtis & Joann Rives * Matt & Julie Asher Lee * Jack & Belvon Wylie
BROWN BEAR
Howard & Sherry Dudley * The Heritage Assembly * Johnson County Historical Commission * Jeff England * David & Martha Murdoch *

BLACK BEAR
First State Bank of Grandview * Cleburne Convention & Visitors Bureau * XTO Energy * Sam & Dorothy Mann * George & Margaret Marti * Louis Speyer * Kim & Brent Easdon * Ron & Mary Alice Layland * Cleburne Chamber of Commerce * Kim & Brent Easdon * Ken Richardson * Dugger Electric * Dumas/Trans Texas Surveying * Greg Cavataio GC Survey * Charles & Sandra Lummus *
BUFFALO
Pete & Sandra Hobby (2) * Dewey James * Jason & Leslie Cech * Commissioner Rick Bailey * Mayor Scott Cain * Jerry & Mary Ann Wheatley * Michelle Marti * Walmart Foundation * Michael & Carolyn Smith * Woodmen of the World Lodge 4* Greg Harmom * Marilyn & Bob King * Dorothy Hargett * Granite Construction * Sheriff Bob Alford * Cleburne Ford * Mary & John Percifield * First Financial Bank * Cleburne Eye Clinic * Albert Archer Family * RC & Elaine McFall * Footgear/Larry Stegemoller * Cleburne Rotary Club * P & P Plumbing/Charles & Judy Patton * Lowell Smith, Jr./Mustang Foundation * Jimmy & Lorna Smith * Jim & Christy Hart * Nancy Devaney/Devaney Sound * Chesapeake Energy * Randolph & Charlene Garner * Clint Hulsey Engineering * Robert McMinn * United Cooperative Services * Brian & Carol Jameson *
WOLF
Jan Greathouse/State Farm Insurance * Members Credit Union * Belinda Silva * Gary & Norma Dupree * Ronny & Jan Poston * David & Mary Barkley * Abby's Pest Control * DeWayne & Jennifer Burns * Lawn Tech * Art Tarwater * Gisele McCurdy *
FRIENDS
Val Beal * Max & Nova Meinen * Jack Carlton * Crosier-Pearson Cleburne Funeral Home * Michael Petty * Childress & Shanklin * Lonnie Holliday * Dan & Barbara Boulware * Clint Forrest * Dr. Eric Halsell * Roger Pedigo * Wayne Pedigo * Rosser Funeral Home * John Turman * Verna Riddles * Dan Taylor * Community Bank * John & Carol MacLean * Dale Dexheimer * Ed King * Clyde Vaughn * Ben & Carla Oefinger * Hill College Welding Department * John Campbell/Triple C Welding * Robby Bransom * Robert Pedigro * Pat Devaney * Ray & Margaret Heston * Tom & Gail Hazlewood * Jane Joiner * Diane Gilbert * Nell Dixon * David Pollock * Pat Kriener * Billy & Bertha Rhodes * Vicky Rogers/Gone With The Wind Remembered Museum * Lowe's Home Improvements * J. Lee & Virginia Harris * Jackie Waymard Seward * Frank 'Running Water' Arellano * Awards by Mastercraft * Nellie 'Quiet Dove' Anguiano * Estes, Armstrong & Early LLC * Sam & Cheryl Keller * Southwestern Adventist University * Mike Dawson * Lynn Buker * A & A Iron & Metal * Victor Olguin * Charles Lee * Maverick's Fine Western Wear * John Kriener *

If you would like to be a part of this one-of-a-kind museum we would like to add your name to this distinguished list. Please call (817) 648-1486 for more information.
Museum Attractions
Step Back In Time & See What It Was Like To Live In The Wild West
Accessible by the public, the Chisholm Trail Outdoor Museum is an open area where visitors can learn about how the cattle drives along the trail impacted life and the history of the first county seat of Johnson County, Texas. Come check out the original courthouse, a stagecoach station, a blacksmith shop, and many more attractions on the banks of Lake Pat Cleburne on the Chisholm Trail. Be sure to check out the many Historical Markers along the Chisholm Trail for a fun driving adventure.
Amazing HISTORIC Outdoor Museum and Big Bear Native American Museum! Makes you believe you are back in the 1800's with Stagecoach, Blacksmith, School, Jail, Court House and more! ALL of the activities and events are incredible!
When we got there, we started with the "Big Bear Native American Museum" on the premises of the Chisholm Trail Museum. With no disrespect to the Chisholm Trail Museum, the Big Bear Museum "stole the show" for both my wife and I. I've seen many Native American artifacts and collections and I believe this museum, while being relatively small, is one of the best curated collections I've ever seen.
Neat place - loved that you can explore on your own and how quiet it is!
Really interesting. And outdoor walking tour that you do on your own. Lots of old building and things to see. I enjoyed myself. I would come back here with little kids and wander around. They have a picnic area where you can go with kids and spend the afternoon