The Chisholm Trail Outdoor Museum | Step Back in Time
19th Century Transportation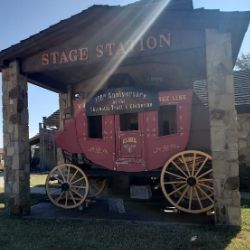 Bringing Hollywood to Cleburne, our restored stagecoach was made to be used in Western movies. It was even featured in two early John Wayne films.
We are honored to have this one of a kind stagecoach on the grounds of the Chisholm Trail Outdoor Museum. Not only does it allow visitors to get an up close and personal view of this long forgotten mode of transportation, but it lets people see how challenging traveling dit was to travel during the 19th century. 
Getting places didn't happen quickly in those times. Though the distance from Cleburne to Forth Worth is just over 30 miles, in the mid 1800s, it would have taken 7 hours to make this trip. Though it wasn't done, if someone were to travel the entire distance of the Chisholm Trail by stagecoach, it would have taken roughly 170 hours. 
Museum Attractions
Step Back In Time & See What It Was Like To Live In The Wild West
Accessible by the public, the Chisholm Trail Outdoor Museum is an open area where visitors can learn about how the cattle drives along the trail impacted life and the history of the first county seat of Johnson County, Texas. Come check out the original courthouse, a stagecoach station, a blacksmith shop, and many more attractions on the banks of Lake Pat Cleburne on the Chisholm Trail. Be sure to check out the many Historical Markers along the Chisholm Trail for a fun driving adventure.
Amazing HISTORIC Outdoor Museum and Big Bear Native American Museum! Makes you believe you are back in the 1800's with Stagecoach, Blacksmith, School, Jail, Court House and more! ALL of the activities and events are incredible!
When we got there, we started with the "Big Bear Native American Museum" on the premises of the Chisholm Trail Museum. With no disrespect to the Chisholm Trail Museum, the Big Bear Museum "stole the show" for both my wife and I. I've seen many Native American artifacts and collections and I believe this museum, while being relatively small, is one of the best curated collections I've ever seen.
Really interesting. And outdoor walking tour that you do on your own. Lots of old building and things to see. I enjoyed myself. I would come back here with little kids and wander around. They have a picnic area where you can go with kids and spend the afternoon
Neat place - loved that you can explore on your own and how quiet it is!