Musuem Attractions
The Chisholm Trail Outdoor Museum
Restored Stagecoach
19th Century Transportation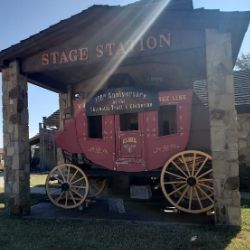 Bringing Hollywood to Cleburne, our restored stagecoach was made to be used in Western movies. It was even featured in two early John Wayne films.
We are honored to have this one of a kind stagecoach on the grounds of the Chisholm Trail Outdoor Museum. Not only does it allow visitors to get an up close and personal view of this long forgotten mode of transportation, but it lets people see how challenging traveling dit was to travel during the 19th century. 
Getting places didn't happen quickly in those times. Though the distance from Cleburne to Forth Worth is just over 30 miles, in the mid 1800s, it would have taken 7 hours to make this trip. Though it wasn't done, if someone were to travel the entire distance of the Chisholm Trail by stagecoach, it would have taken roughly 170 hours. 
See More Attractions
A Fantastic Outdoor Museum Experience For All Ages
Multiple Museum Attractions Available!