Frequently Asked Questions
The Chisholm Trail Outdoor Museum
What is the Chisholm Trail Outdoor Museum?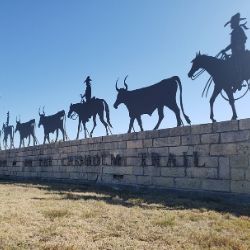 The Chisholm Trail Outdoor Museum is a private historical area that is open to the public. The Museum is operated by Johnson County Heritage Foundation, Inc., an all-volunteer 501 (c) (3) foundation with the exception of the Big Bear Native American Museum. We were incorporated in March 2005 and operate on donations only. 
Our purpose is to educate and restore the rich history of Wardville, the first county seat of Johnson County, and the impact the Chisholm Trail had on this historic site. With the addition of the Big Bear Native American Museum, we now include the impact and history of Native Americans, not only in this area, but in the rest of the nation.
Entry Fees
$5.00 ~ Adults
$3.00 ~ Kids and Seniors
Strollers Free
**Prices subject to change during Majors Events or Concerts.
Get More Answers
A Fantastic Outdoor Museum Experience For All Ages
Multiple Museum Attractions Available!