The Chisholm Trail Outdoor Museum | Step Back in Time
Frequently Asked Questions
How much do museum tours cost?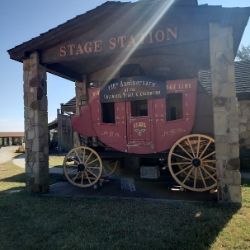 There is no charge for small tours.
We accommodate bus tours with advance notice (at least a week) for $5/person. We are also happy to offer school tours for a discounted rate of $4/person. Teachers, students and parents are all eligible for that rate. Title I schools with certification are $3/person-also including teachers, parents and students. Tours last approximately two hours. 
Please call Carrie Reynolds at 254-998-0261 for all tour bookings and questions.
See More Questions...
Amazing HISTORIC Outdoor Museum and Big Bear Native American Museum! Makes you believe you are back in the 1800's with Stagecoach, Blacksmith, School, Jail, Court House and more! ALL of the activities and events are incredible!
Really interesting. And outdoor walking tour that you do on your own. Lots of old building and things to see. I enjoyed myself. I would come back here with little kids and wander around. They have a picnic area where you can go with kids and spend the afternoon
Neat place - loved that you can explore on your own and how quiet it is!
When we got there, we started with the "Big Bear Native American Museum" on the premises of the Chisholm Trail Museum. With no disrespect to the Chisholm Trail Museum, the Big Bear Museum "stole the show" for both my wife and I. I've seen many Native American artifacts and collections and I believe this museum, while being relatively small, is one of the best curated collections I've ever seen.