Frequently Asked Questions
The Chisholm Trail Outdoor Museum
Cowboy Christmas on the Trail
Date: December 9-10, 2023
Showtimes: 3,5,7, and 9 PM
Tickets at Gate: Adults $10, Kids $8
Location: 101 Chisholm Trail, Cleburne, TX 76033
Contact Number: 254-998-0261
How much do museum tours cost?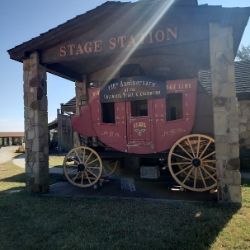 There is no charge for small tours.
We accommodate bus tours with advance notice (at least a week) for $5/person. We are also happy to offer school tours for a discounted rate of $4/person. Teachers, students and parents are all eligible for that rate. Title I schools with certification are $3/person-also including teachers, parents and students. Tours last approximately two hours. 
Please call Carrie Reynolds at 254-998-0261 for all tour bookings and questions.
Get More Answers
A Fantastic Outdoor Museum Experience For All Ages
Multiple Museum Attractions Available!